REASONS FOR CONSUMING RAISINS: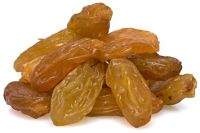 Raisins are the dehydrated white-fleshed grapes which makes it nutrients concentrated. It is a good source of vitamins, iron, carbohydrates, potassium and so on.
We at Danphe Magazine have collected the information on the benefits of consuming raisins as below:
Benefits of Raisin:
Raisins contain a lot of calcium, potassium and a boron, micro nutrient (very small amount of nutrient required by body). They can help strengthen your bones and reduce the chances of osteoporosis.
It is a great source of potassium. This mineral helps normalize hypertension as there's correlation between reduced hypertension and consumption of raisins. It's also good for the cardiovascular system.
Consume more raisins to treat anemia and insomnia. Iron, vitamin B complex and copper present in raisins are important for the production of red blood cells.
It is full of anti-oxidants and contains phenolic phytonutrients. They help promote a strong immune system and protect you against illness like fever etc. Also, it protects the eyes from free radical's damages to the eye.

Relieves Constipation:

Eating raisins protects regular bowel movement because of the fiber in them. Fiber also helps lower the risk of colon cancer as well as relieves constipation.
It prevents from kidney stones. It also purifies blood, promoting the liver health.
The amino acid called arginine, helps to treat erectile dysfunction. Additionally, it increases the chance of conception by increasing the sperm mobility.
It can reduce frequency as well as unpredictability of diarrhea by absorbing its liquid.
Regular consumption of raisins prevents acidity as well as suppresses chronic inflammation.Additionally, it prevents from bacterial growth, discomfort from bloating and other intestinal diseases too.
It contains phytochemicals called Oleanolic acid prevents teeth against cavities, decay and brittleness. The calcium present in raisins promotes healthy teeth and gums.
It helps to gain weight since they are full of fructose and glucose without consumption of unhealthy foods.
Daily consumption of raisins makes your hair thick and shiny as the vitamin C prevents cell damage. Additionally, the vitamin C and antioxidants present in raisins makes skin taunt, youthful and radiant.
It stimulates cholesterol burn promoting good heart health.
It can control diabetes by lowering the postprandial insulin response.
Note: Excessive use of raisin might cause allergy, unwanted weight gain and increased risk of diabetes.
                                  WE WOULD LOVE TO HEAR YOUR OPINIONS ON THIS….
You Might Also Like: