Vipassana meditation is something that heals the soul and consolidates calmness which is itself an advantage and a good trait to nurture yourself.
Two peoples are having some intense conversation and the third one is still busy tingling his cell phone, strokes accordingly and dives into the deep gorge of Information Technology.
On one hand, it merely displays the height of disrespect towards other people engaging in confabulation and on another, it destroys the essence of effective communication and visual interaction.
Social Media has partaken as a negative wave to draw people more and more into the enigma. Technology has certainly helped people to make their daily life expedient but the irrational use of such feature has been ineffective. In the plot, the third person used to be me. I was totally obsessed with Social Media. People of our age are consistently obsessed with cigarettes, alcohols and more.
However, I was wedded to the Internet and sometimes even for no reason. Talking about Facebook, I used to swipe the news feeds unevenly all the time even if there were no new broadcasts. Being almost fastened inside the web, I was trying to get out of this dissenting system.
Moving inside a park, we barely see people engaging in one-one-one communication these days. Everyone is retained in their own private muster accompanying their best mate, "Mobile Phones''. The next dolorous thing is, authorities have dispersed a free Wi-Fi Connection within and around the domain of parks.
Parks are meant to be endowed with the intent of providing people to spare their leisure time enjoying the ambiance of nature, plants, species, orating, meditating and playing outdoor games. Back then, a bunch of peoples under the tree of banyan was found to be grabbing their experiences and quality talks along with kith and kins.
The time was real when people were entirely hedged by the trees in the thick of primeval architectures auditing the chirps of bird and snacking fresh berries out of the woods and vines.
And in the concurrent context, the scene is completely bizarre and distressing. After all, I ended up concluding that the society is on the way to prove the pungent statement of Albert Einstein, "I fear the day that technology will surpass our human interaction. The world will have a generation of idiots"
The time was gradually paying out and I reckoned things won't work that way. In order to refine myself for the upcoming diurnals, I commenced to gather all the information and underwent meditation research. Finally admitting the patience level, I joined Vipassana Meditation Course for 10 days meditation retreat.
10 Days of stay in a shell together with noble silence is similar as much as Dhamma prisoners. There are around 45 mediators in one session. We were allocated inside a Dhamma Hall in Dhamma Kitti Vipassana Center, Kirtipur. Kirtipur is one of the finest town in Kathmandu having peculiar culture, tasty foods, and friendly people. However, we were completely abandoned to execute these things.
No mediators inside the premises were allowed to cross the Dhamma borders and were restricted to speak even a word for 10 days long. Even the rules were similar for the servers and staffs of Dhamma Kitti. SatwikBhojan (free from Rajasik and Tamasik guns) were served for the mediators as it perpetuates diet and body wholesomeness. SatwikBhojan or Plain Food were intently served to boost up metabolism, stamina and exclude meditators from apathy, laziness and torpidness. The meditation techniques are derived from 2500 years back ancient Buddhism artistry and is summarized and frame worked by S.N. Goenka.
The major cities in Nepal organize 10 Days Vipassana Course in their respective Dhamma Centres. Some of them are:-
1. Dhamma Kitti (Vipassana Kirtipur)
2. Dhamma Shringa (Vipassana Narayanthan)
3. Vipassana, Lumbini
4. Vipassana, Pokhara
5. Vipassana, Chitwan
6. Vipassana, Biratnagar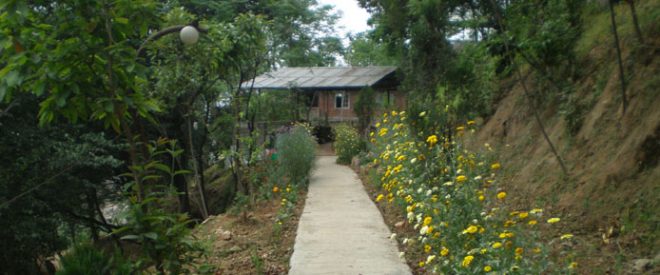 Maintaining silence was previously a challenging task but maintaining complete noble silence got more complicated. Interrogation was totally banned for mediators and were not allowed even to consider the communication through eyes or by any means. Communication by any means resembles the interaction through body language, signs, eye contacts which was completely reserved barred. It was absurd at first but slowly we got accustomed. I shared a common dormitory with Samuel, Alex, Thomas and Dario who came all the way from Australia, Spain, Czech Republic and Italy respectively. In the first three days of the course, everyone will learn to enhance the mediators for deep meditation. It's like a warm-up process to make them ready for the race.
We were all on a strong mission to strengthen our patience level. Every layman has an objective before joining Vipassana. Majority of the mediators were from the west and reckoning them, more than half of them had a major objective to quit tobacco and I was more pathetic to check my Facebook walls every single evening. It was funny enough to consider but slowly we got accustomed to the peculiar atmosphere of meditation. I was happy enough as I moved my hands off from cell phones.
Having an empty mind sometimes disturbs the peace of mind, inaugurates negative thoughts and step-up insomnia. Our mind is null and void for the entire course and has no ideas beyond the meditation techniques. The leader of meditation center administered us to stop worrying about things that is happening in the world. We were enjoying the atmosphere of peace, isolation and personal admiration having the mind totally free from stress and anxiety. We were striving our all efforts to augment and convene calmness considering each moment as a gift. In the process of scaring up the level of patience, we left no stone upturned to keep ourselves motivated and indulgent.
We got to practice many things during our stay at Vipassana Center.
There's nothing to regret with regard our abide in Dhamma Kitti except for one thing; I lost my childhood friends in a Tipper collision at Dhading and could not adieu them a last goodbye. I was struggling Day 3 inside the Vipassana Center and they left way sooner the same morning. There's nothing left despite to console the feelings. Having the regrets completely distorted, it would've been fragile and heartbreaking to see them burning into ashes. Nevertheless, residing inside a town as well as possessing the complete restriction of the outer world, Vipassana meditation is something that heals the soul and consolidates calmness which is itself an advantage and a good trait to nurture ourselves.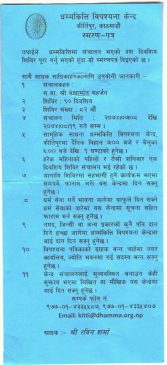 "The author is a writer in The Rising Nepal National Daily and other English Daily newspapers as well as a CA student under ICAN"
You Might Also Like: